As a former insurance defense lawyer, Evan knows the tactics insurance companies use to reduce the value of your claim. Schedule a free consultation with Evan and don't let the insurance company win.
Pedestrian accidents can be horrible. The injuries caused when a car strikes a pedestrian can be catastrophic. It is important to retain a pedestrian accident lawyer who can battle the insurance company.
Spinal cord injuries include herniated discs, bulging discs, spondylolisthesis, and compression fractures. These injuries can be caused by car accidents, pedestrian accidents, and slip and fall accidents.
If you are injured in a drunk driving accident in San Diego County, your Drunk Driving Lawyer should tell you that you may be able to seek punitive damages against the driver, in addition to other damages.
Motorists and bicyclists can make a dangerous combination. It's important to know the rules for motorist and bicyclists so you can determine where fault lies. A San Diego Bicycle Accident Lawyer can provide that information.
Property owners are responsible for keeping their premises free from defects. Premise liability claims happen in all types of places: homes, businesses, playgrounds, construction sites, bars, and public spaces.
Bus accidents generally occur when a negligent bus driver causes an impact, or when a negligent car driver slams into the bus. You should retain a Bus Accident Lawyer who knows what to expect.

Uninsured Underinsured Motorist accidents are a complicated area of law, involving legal concepts from both contract and tort. You should contact a San Diego Uninsured Underinsured Motorist Lawyer who knows what to do.
Slip and fall accidents generally happen at stores open to the public. Dangerous conditions occur when substances are left on the floor. Contact a Slip and Fall Lawyer to determine whether there is a claim.
Claims against the City of San Diego or other municipalities are governed by different rules and are subject to strict timelines. You should find a Government Liability Lawyer who won't waste time or be scared to sue the government.
Battery and assaults are intentional torts, which means they shouldn't be covered by liability insurance. But that doesn't mean you can't recover. You could also have a claim for intentional infliction of emotional distress.
Want to report a dog bite? Call San Diego Animal Services at (619) 767-2675. Make sure you get the name and any contact info of the dog owner, and remember what the dog looked like. Provide as much information as you can.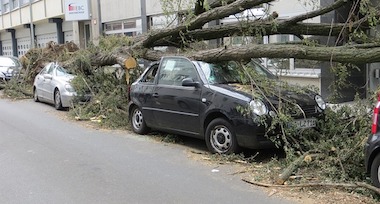 Evan has seen wind damage and knows what should be covered under a policy. And he knows the steps to take to resolve your wind damage claim. Don't trust the insurance company to do the right thing.
Evan's first years of law practice were spent defending Hurricane Katrina claims. He understands the tricks insurance companies use to deny a claim. If you have a dispute about water damage, contact an experienced lawyer.
You need to distinguish between water damage and flood damage. If your property or business sustained flood damage and there's a dispute between you and the insurance company, contact Evan.
Your property is subject to natural disasters. Your insurance company should pay you for damage caused by a covered peril, but sometimes they don't. If you have a property damage claim dispute, contact Evan.
Fire can cause a devastating loss. And California is prone to wildfires. Was your home or business damaged in a wildfire or other inferno? Contact Evan, a California Property Damage Lawyer who handles fire damage claims.
Business interruption compensates the business for losses caused by an inability to carry on normal operations due to damage to the business's building. Evan advises businesses on what to do following a loss.
Did you have a property damage claim and the insurance company was dragging its feet? Was your claim improperly handled or wrongly denied? Speak to a property damage lawyer who handles bad faith claims.
Inverse Condemnation claims involve constitutional law, tort law, and concepts like strict liability and government immunity. You may want to speak to Evan, who has experience with inverse condemnation claims.
Was your home or business damaged due to wind damage, water damage, or fire damage? And then to make matters worse, your insurance company denied your claim? Let Evan handle your claim denial.